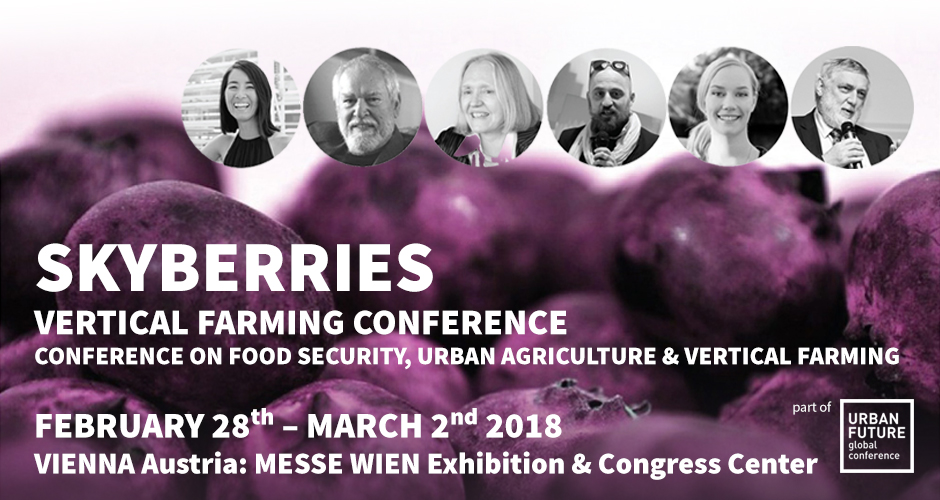 SKYBERRIES VERTICAL FARMING CONFERENCE 2018 CONFERENCE ON FOOD SECURITY, URBAN AGRICULTURE AND
VERTICAL FARMING

---

REGISTER NOW! FEBRUARY 28th – MARCH 2nd 2018 VIENNA Austria: MESSE WIEN Exhibition & Congress Center
How will we feed 10 billion people? Where will food for 400 Megacities be produced? And how can we grow as healthy, sustainably and independently from fossil resources as possible? SKYBERRIES will have impact. We will connect you with leading stakeholders worldwide in the growing Vertical Farming market.
THE VERTICAL FARMING CONFERENCE
SKYBERRIES vertical farming conference presents the state of the art of Vertical Farming and invites all participants to find their position within this future business area. Both conference days will see important basics be presented, current and future challenges of food security discussed and possible solutions outlined and put into action.
SKYBERRIES takes place as part of URBAN FUTURE global conference and thus combines the world's largest gathering of city-changers with the first conference on Vertical Farming in the German-speaking region. Participants such as architects, mayors, mobility experts and sustainability managers have access to all parts of both conferences and can discuss their ideas with scientists, entrepreneurs and start-ups.
More than 30 high profile speakers will present and discuss the challenges of food security and opportunities offered by Vertical Farming. These presentations will range from the status quo of research in vertical agriculture to science fiction, from sociology to economy, from science to realization. Participants can look forward to insights into realized vertical farms, economical aspects and socio-political dimensions of vertical farming as well as specific insights for their own companies.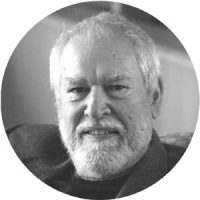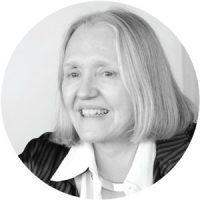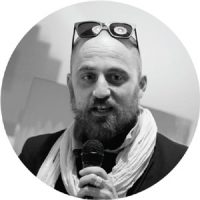 Meet Dickson Despommier, Saskia Sassen, Daniel Podmirseg and many more!
We expect contributions by Dickson Despommier ("The Vertical Farm"), Penny McBride (The Association for Vertical Farming and Vertical Harvest), Franz Fischler (European Forum Alpbach), Saskia Sassen (Columbia University), Wolfgang Kessling (Transsolar) as well as representatives of the European Space Agency, Siemens and many more.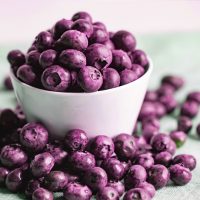 STANDARD TICKET | depending on booking date                            € 500  (€ 600)
limited availability until 31st of December 2017  | €  500,00
starting 1st of January – 15th of February 2018   | €  600,00
DISCOUNTED TICKET | City | NGO | University | Students              € 300
for representatives of cities, NGOs or universities & students only
available until 30th Jan 2018
PARTNER TICKET                                                                                           € 400
for partners and sponsors of SKYBERIES only
available until 30th of January 2018
TICKETS INLCUDE
Access to the conference venue on 28 February and 1 March, 2018 for SKYBERRIES + URBAN FUTURE global conference.
Access to all sessions  (except for URBAN FUTURE "Mayors Only sessions" & URBAN FUTURE "Urban Journalism Academy")
Access to the EXPO site as well as to the EU Project Area and the SKYBERRIES Bazar and exhibitions
Access subject to capacities of the specific venues – be there in time to secure your seat!
Refreshments at the conference venue
Participation in field trips on March 2, 2018 (access limited!)
Access to the event app
Access to all speakers documents
You want to become partner of SKYBERRIES? Interested in joining us as an exhibitor or to present a round table or workshop? Secure your place in the growth market of Vertical Farming and contact us regarding our cooperation on SKYBERRIES conference!
Please download our partner-handout here or contact our sales-team directly:
Peter Melichar / T +43 (0) 699 19520490
Stefan Parnreiter-Mathys / T +43 (0) 699 11042679
skyberries@skyberries.at
Within the next months we will introduce to you to more regional, national & international partners & sponsors of SKYBERRIES.